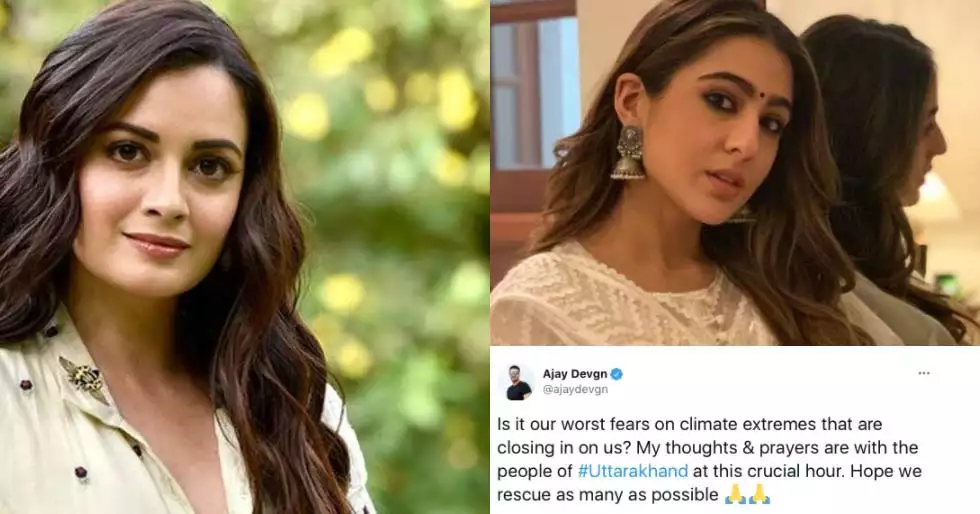 Another tragedy has struck Northern India, in the state of Uttrakhand where a glacier broke off in Joshimath in Chamoli district today. It caused a massive flood in the Dhauli Ganga river and endangered the lives of people living along its banks. Over 150 people have been reported to have lost their lives and almost 9 people are yet missing. 
Sending out prayers and condolences, stars took to social media to share heartfelt messages for all those affected by the flood. Sara Ali Khan, Farhan Akhtar, Dia Mirza and more posted helpline numbers and consolation messages on social media post the tragedy. Ajay Devgn took to Twitter and wrote, "Is it our worst fears on climate extremes that are closing in on us? My thoughts & prayers are with the people of Uttarakhand at this crucial hour. Hope we rescue as many as possible." 
Scroll through to see what stars had to see in the wake of the tragedy. 
Deeply disturbed and saddened by the #GlacierBurst in #Chamoli, Uttarakhand! May God give the strength to the families who have lost their dear ones in this horrific tragedy. And may the injured recover soon! 🙏🙏🙏 #NaturalDisaster pic.twitter.com/rMecVOjzXq


— Anupam Kher (@AnupamPKher) February 7, 2021
#Uttarakhand our prayers go out to those trapped & those who lost their lives,our anger & frustration on those who mindlessly mess with nature should be as strong.Unplanned & unthought of development is the cause of these man made disasters.Who has this blood on their hands?


— kunal kohli (@kunalkohli) February 7, 2021
Uttarakhand and its people in my thoughts. Hoping that rescue teams will succeed in saving the lives of those who are trapped or isolated due to the sudden flood.


— Farhan Akhtar (@FarOutAkhtar) February 7, 2021
Is it our worst fears on climate extremes that are closing in on us? My thoughts & prayers are with the people of #Uttarakhand at this crucial hour. Hope we rescue as many as possible 🙏🙏


— Ajay Devgn (@ajaydevgn) February 7, 2021
Comments
0 comments